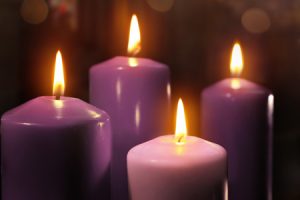 Advent Sunday is the first day of the Church's year. This year it falls on Sunday 1 December and goes on until Christmas Eve.
At the morning services we will bless the crib in church. If you would like your own crib to be blessed before you put it up at home, please bring it to one of the morning services.
The St Mary's travelling crib – Posada – will start its journey after the 10.00am service, travelling from house to house around our church community. To participate, please sign up at the back of church.
The Advent Carol Service will be at 6.00pm with hymns, songs and readings for the season.
During Advent, visit Follow the Star for daily Bible readings, reflection and prayer prompt as well as lovely music. You can get the daily reflections by email or through the app for iOS or Android devices.
There are also plenty of books linked to the period from Advent Sunday to Epiphany in our library at the back of the church.