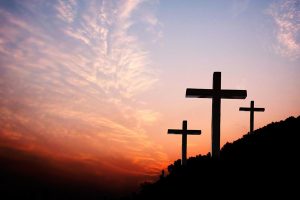 Good Friday is the Friday immediately before Easter.
On Good Friday we remember the crucifixion and death of Jesus. It is a sombre day of reflection on the sacrifice that Jesus made for us all.
10.00am: Creating the Easter Garden
All are welcome to come to assist in the creation of the Garden, and to share Hot Cross Buns afterwards.
12 noon: The Liturgy of Good Friday
The traditional Liturgy includes the Ministry of the Word, Proclamation of the Cross, Intercessions, Reproaches and Holy Communion using the bread and wine consecrated during the Eucharist on Maundy Thursday.
The service offers spacious silences for meditation and reflection on the Passion of Our Lord on this most holy of Holy Days.
7.30pm: The Stations of the Cross
Using contemporary images alongside our own Stations, this service provides space for reflection on Christ's journey towards his death.