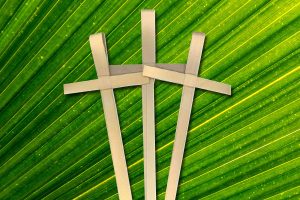 Palm Sunday: 5 April
At our services of Holy Communion at 8.00am and 10.00am the palm crosses are blessed and distributed to everyone.
The 10.00am starts at the east end of the churchyard and we process round to the church, singing hymns and waving our palms. We remember Jesus' triumphal arrival into Jerusalem on a donkey when the crowds also waved palms and covered the path with them.
Holy Monday, Holy Tuesday and Holy Wednesday
We will gather at The Vicarage to watch an episode each day of the BBC dramatisation of The Passion (BBC 2008). A light supper will be served at 6.00pm, screening starting at 7.00pm. Please sign up for catering purposes.
Maundy Thursday: 9 April
Good Friday: 10 April