'Toto, we're not in Kansas anymore.' So says Dorothy when she wakes up in the Land of Oz.
We might feel a bit like this as we prepare for our arrival in Lent this year – we're not in a world we know anymore with the horizon having somehow shifted and familiar landmarks now in different places.
As we journey through Lent this year, rather like Oz – where things are similar but not quite the same – there will be echoes of a 'normal' Lent but these will be offered slightly differently.
We will begin all activities and groups in the week beginning Sunday 21 February. Initially, they will take place on Zoom and move to meeting face-to-face if we are able.
However you participate in our observing of Lent this year, I hope it will be holy and blessed season of faithfulness for you.
Deborah
Setting out on the journey
6.00pm Making the ash!
Join Deborah online for the annual ritual of burning palm crosses from previous years to make ash for this year's ashing.
If you would like your cross to be burned, place it in the box outside the Vicarage or burn yours at home for use on Ash Wednesday.
10.00am Worship in the Churchyard for Ash Wednesday
As the season of Lent begins, we are marked again with the cross with which we were signed at our baptism – a reminder of both death to life and life in death.
At this short service in the churchyard the Imposition of Ashes will take place.
The service will be socially distanced and with COVID-19 measures in place.
7.45pm Worship@Home for Ash Wednesday
At this service we will each use either ash or water to make the sign of the cross with which we were signed at our baptism – a reminder of both death to life and life in death.
This service will be on Zoom and Facebook Live.
Opportunities for study
Living His Story, Hannah Steele
Wednesdays @ 10.30am, facilitated by Dorothy Champion
Wednesdays @ 2.30pm, facilitated by Christine Payne
How can we convey the love of God to our neighbours in a post-Christian world that has largely forgotten the gospel of Jesus Christ? In Living His Story, the Archbishop of Canterbury's Lent Book 2021, Hannah Steele uncovers liberating and practical ways of sharing the gospel story afresh. With warmth and encouragement, she shows us how we can live Jesus' story in our own lives simply by being the people God made us and allowing people to be drawn to him through our natural gifts.
Thy will be done, Stephen Cherry
Thursdays @ 7.45pm, facilitated by David Carruthers
At a time of change, uncertainty and widespread anxiety, we need to discover again the freshness of our most familiar spiritual resources.
Stephen Cherry's Lent book does exactly this by inviting the reader to immerse themselves in the most central, important and iconic of Christian prayers – the Lord's Prayer, the Our Father.
Mining the tradition for wisdom and insight, and finding inspiration in the theologians of the past such as St Paul, Gregory of Nyssa, John Calvin, but also more contemporary voices such as Evelyn Underhill, Simone Weil, and Michelle Obama.
This most accessible Lent Book, rich in anecdote as well as analysis, is daily bread for the spiritually hungry.
Opportunities for prayer, reflection and worship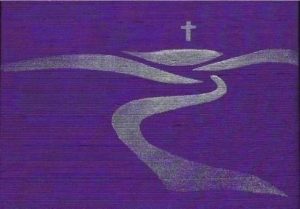 A Prayer for Lent
As we walk together this journey of Lent, Lord Jesus,
let me know you walking beside me, walking before me, walking behind me surrounding me with love.
As we walk together this journey of Lent, Lord Jesus, may you know me walking beside you, walking before you, walking behind you surrounding you with love.
May our walk together be one of blessing, of challenge, of hope surrounded with love.
Amen.