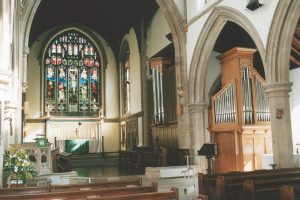 We are delighted to be able to return to worship in church. We are currently holding just one public service of Holy Communion each week at 10.00am on Sundays.
Things are a little different in the church but we hope you'll become comfortable with the changes. All our plans are informed by national guidelines for COVID-19 safety and may be subject to change. As we move forward together in faith and hope, keeping everyone safe is at the forefront of everything we do.
We have published some guidelines to explain the new ways in which things will work:
Key things to note are:
The number of people who can attend a service will be limited
You will need to book a place for the service you wish to attend
Social distancing must be observed at all times
The wearing of face coverings is compulsory (unless you are exempt under UK Government guidelines)
Hand sanitiser must be used
Communion will be distributed in one kind (bread) only
We will continue to livestream services on Zoom and Facebook Live
If you have symptoms of COVID-19
If you have symptoms of COVID-19, please do not attend public worship. Please follow national guidance regarding testing and self-isolation.
Booking a place
The COVID-19 restrictions mean we have to limit the number of people attending services.
In order not to have to turn people away at the door, please book your place in advance via the Church Office on 01923 721002:
Call the Church Office by noon on Thursday to book to attend on the following Sunday or Wednesday
Please call the Church Office between 10.00am and 12 noon
Bookings will only be taken over the phone: please do not leave a message and please do not email
You will need to book each week; attendance will not be carried over
As numbers are limited, we ask that you book to attend only one service each week for now.
For further information about what you can expect and how things will work, please download and read the guidance notes. 
If you are unable to attend worship in the church, you may like to follow this Service of Spiritual Communion that was shared by the Methodist Church. We hope this will bring spiritual comfort when you are unable to receive Holy Communion in person.