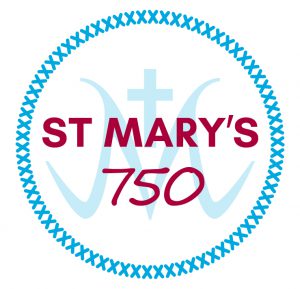 We've got a busy programme of events planned for this special year as we mark the 750th anniversary of the formation of the Parish of Rickmansworth.
Here are the events that have been confirmed so far.
Other activities that will be going on include:
Creating our own St Mary's gin
Monthly quarter peals by bellringers from other local churches
A timeline display in church (from May)
Three Rivers Museum is mounting a special exhibition focusing on some of the people who are commemorated in St Mary's Church (from April).
Please get in touch if you'd like any more information about St Mary's 750:
Due to the outbreak of coronavirus COVID-19, we very much regret that we have had to postpone some events. We hope to hold them at a later date. 
3 May

3.00pm

Songs, Psalms and Sonatas 

POSTPONED

Our organist and choir master, Andrew Sykes, together with the choir of St Mary's and other local musicians, will present a programme of music including a piece written in 1270. The concert will be followed by tea.

9 May
Quiz Supper

POSTPONED

A fun evening with a 750 theme to challenge those little grey cells

30 May

7.00am-7.30pm

750 minutes of prayer

POSTPONED

Members of churches across the local area will take turns to lead prayer and worship in the church.

20 June
Loves, Labours and Losses

POSTPONED

Hilary Pearce and friends will present a programme of music and entertainment with an extended interval for supper

10-12 July
Flower Festival and Art Exhibition

POSTPONED

We invite our community to join with us in presenting a magnificent floral festival, accompanied by an exhibition of work by the Rickmansworth & District Art Society

13 September
Patronal Festival

We will welcome the Bishop of St Albans to preside and preach at our 10.00am service as we celebrate our church's birthday

3 October
Harvest Hog Roast

As part of our Harvest Festival celebrations, we will be holding a community hog roast with games and entertainment for all

8 October
The Parishioners of St Mary's before the Reformation

A talk to Rickmansworth Historical Society by Dr Heather Falvey.

Cloisters Hall, starting at 8.00pm. Non-members welcome (charge of £3).

22 November
Celebrating St Cecilia

We will join with choirs and musicians from other local churches to celebrate the feast day of the patron saint of music.

28-29 November
Ricky Revue

Our very own drama group, The Motley Crew, will present a light-hearted and sometimes irreverent review of the past 750 years

6-19 December
Christmas Tree Festival

This event provides another opportunity for individuals and groups in the community to come together to create a festive spectacle to enchant and delight