2020 is the 750th anniversary of the establishment of the Parish of Rickmansworth and we will be marking this significant event with a series of commemorative events during the year.
A little bit of history
The first records of a church building in Rickmansworth date from the end of the 12th century although it is known that Rickmansworth was an inhabited area for many years before that.
In 1219 Pope Honorius III confirmed the 'church' to the abbot of St Albans and the first record of a Vicar is of Richard de Chelveston in 1270.
The original parish was much larger than it is today, extending over Croxley Green, Moor Park, Batchworth, West Hyde, Mill End and Chorleywood. As the community grew, new parishes were formed:
| | |
| --- | --- |
| 1846 | West Hyde |
| 1854 | Northwood |
| 1868 | Chorleywood |
| 1872 | Croxley Green |
| 1875 | Mill End |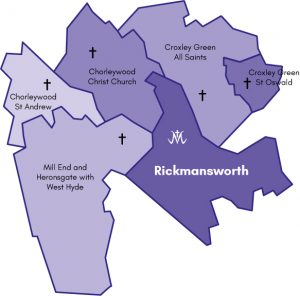 The original Parish of Rickmansworth
Nothing remains of the church building from this time and the oldest part of our present church is the tower, built in 1630. The present church was rebuilt in 1890, retaining the aisle walls from the 1826 building.
Celebrations
Plans are underway for celebrations throughout 2020. We very much hope we'll be seeing you at St Mary's during 2020 – you will be most welcome!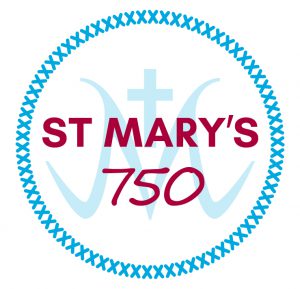 Events for St Mary's 750 are being coordinated by Buzz Coster and Helen Swain. Please get in touch if you'd like to know more, join in or even organise an event as part of this special year.
We're working with a number of local partners during this special year: