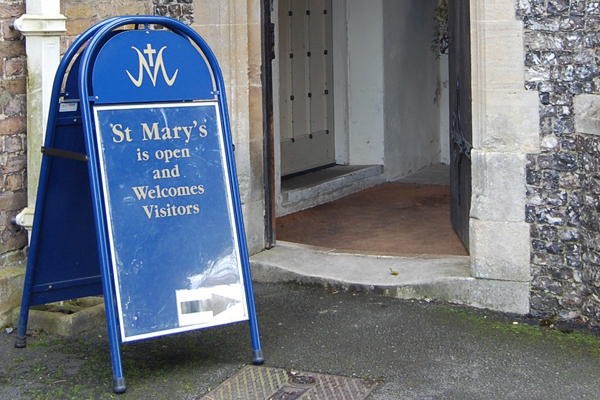 After just over three long months, we are immensely glad to let you know that our beautiful church building is open once more for private prayer.
When can I visit?
You can visit at the following times:
| | |
| --- | --- |
| Sunday | 1.00pm-3.00pm |
| Tuesday | 10.00am-12noon |
| Wednesday | 10.00am-12noon |
| Thursday | 10.00am-12noon |
If you are planning a special visit, you might like to call the Church Office first because, if there is known contamination by the COVID-19 virus, we will have to close the church for 72 hours. We will endeavour to update the website if this happens.
What can I expect when I visit?
The church will look and feel a little different to normal.
All visitors are requested to wear a face covering at all times whilst inside the church building.
Please enter by the north door and use the hand sanitiser when you come in. There are arrows to direct you where you can go and designated pews in which to sit.
Some areas of the church have been cordoned off and we ask that you respect these barriers. If there are aspects of the church building that you wish to see more closely, please have a look at the pages on our website that have more details about the church building. We look forward to being able to welcome you back for a proper look round in due course.
Please maintain social distancing at all times within the building.
There is no access to the toilets at this time.
When will the church be open again for services?
At the recent meeting of the United Church Council, the decision was taken that services of public worship will not take place in St Mary's before September.
Plans are under way to ensure a smooth transition for everyone.
It is intended that church services will continue to be livestreamed so that everyone is able to continue attending worship at St Mary's.
Meanwhile all services, plus a host of social activities for all ages, are taking place online. You can find out more at This week at St Mary's.
We can't wait to be able to welcome you back into St Mary's again. Watch this space!