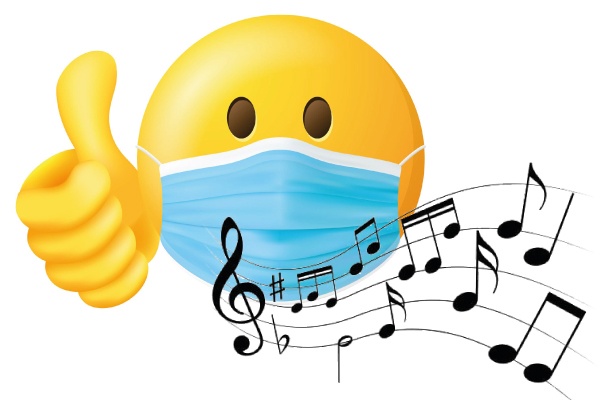 Yes, we can sing again! But please wear a facemask if you want to join in. Thank you.
Services have resumed in church and we hope you will feel comfortable to return to worship with fellow members of your congregation. We are taking a cautious approach to how we do things so we aren't 'back to normal' yet. However, what is 'normal' is the welcome you will receive and the pleasure it will be for everyone to be together again.
Sunday morning services will be held at 8.00am and 10.00am. There is no need to book to attend any more.
The wearing of face-coverings is optional but warmly recommended, particularly if you wish to sing. 
Please use the north porch door (the one facing Church Street) to enter the church and use the hand sanitiser provided when you come in.
We continue to operate a one-way system inside the church; please follow the arrows.
You may sit where you wish (we're just using the saint-named pews at the moment) but please leave plenty of room between yourself and others.
The sacrament (Holy Communion) will continue to be offered in one kind, as has been our practice since re-opening. Face coverings must be worn when receiving the sacrament and hand sanitiser must be used. Administration will take place without speaking.
Yes, singing is back! We know how much everyone has missed singing hymns but ask that you wear a face covering if you wish to sing.
Please be considerate of others and respect other people who may be taking a more cautious approach to attending church. Maintain social-distancing if you are able, wear a mask and heed the recent words of the Bishop of St Albans: For Christians, this is all part of the teaching to 'love your neighbour as yourself'. How can I live and how can I worship in a way which protects those around me?
We also encourage everyone to take a lateral flow test at least once a week to reduce the risk of infecting other people.
We'll continue to livestream services on Zoom and Facebook Live too.
The church is open for prayer during the day from Sunday-Wednesday. You are most welcome to pop in.
Sunday 19 September
You can also dial in to Zoom to participate by phone, even if you don't have a camera on your phone or computer. Call one of the following phone numbers (the cost is the same as a local call). You will be prompted for the code and password:
| | | |
| --- | --- | --- |
| 020 3481 5237 | 020 3481 5240 | 020 3051 2874 |

The 10.00am service on Sunday will be on Zoom and Facebook Live.
For security reasons, we are not able to provide a direct link to Zoom services from this website. Please contact the Church Office for details.
You don't need a password for Facebook Live; just visit our Facebook page.
A prayer for the present time
Keep watch, O Lord, with those who wake, or watch or weep tonight, and give your angels and saints charge over those who sleep. Tend your sick ones O Lord Christ, rest your weary ones, soothe your suffering ones, pity your afflicted ones, protect your joyous ones, and all for your love's sake. Amen.