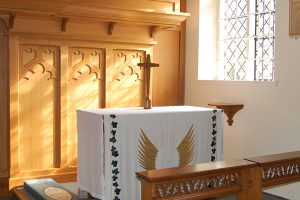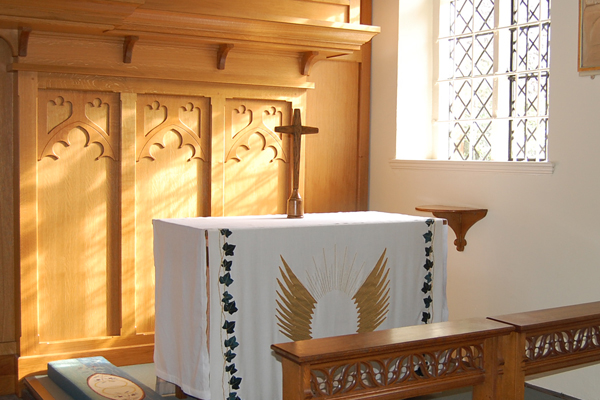 While our church is closed for public services during the coronavirus COVID-19 pandemic, our Vicar, Deborah, will be holding a service at 10.00am each Sunday  using Zoom and Facebook.
You will be most welcome to join us in our virtual world.
Deborah is also organising some mid-week social get-togethers. Scroll down for more details.
For security reasons, you will need a password to join Zoom'd services and meetings. These will be sent by email beforehand. If you aren't on the emailing list, please send an email to Deborah to request the password.
St Mary's Church is open for private prayer:
| | |
| --- | --- |
| Sunday | 1.00pm-3.00pm |
| Tuesday | 10.00am-12noon |
| Wednesday | 10.00am-12noon |
| Thursday | 10.00am-12noon |
All visitors are requested to wear a face covering at all times whilst inside the church building. Thank you.
At the recent meeting of the United Church Council, the decision was taken that services of public worship will not take place in st Mary's before September.
Plans are under way to ensure a smooth transition for everyone.
It is intended that church services will continue to be livestreamed so that everyone is able to continue attending worship at St Mary's.
Sunday 2 August
Worship at Home will take place at 10.00am on Zoom and Facebook. The code and password for Zoom are sent out weekly by email.
You can also dial in to Zoom to participate by phone, even if you don't have a camera on your phone or computer. Call one of the following phone numbers (the cost is the same as a local call). You will be prompted for the code and password:
| | | | |
| --- | --- | --- | --- |
| 020 3481 5237 | 020 3481 5240 | 0131 460 1196 | 020 3051 2874 |
After the service, you are invited to stick around for social chat using the breakout rooms facility in Zoom. This is a fun way of catching up with people and getting to make new friends too.
A prayer for the present time
Keep watch, O Lord, with those who wake, or watch or weep tonight, and give your angels and saints charge over those who sleep. Tend your sick ones O Lord Christ, rest your weary ones, soothe your suffering ones, pity your afflicted ones, protect your joyous ones, and all for your love's sake. Amen.
Other activities coming up
There are a number of other activities during the week including social get-togethers and activities on Zoom and WhatsApp. It's a chance to 'see' your friends and even make some new ones.
For Zoom meetings, you'll need the code and password for each meeting. These are being sent out by email but, if you don't get them, send an email to Deborah and she will send you everything you need to know!