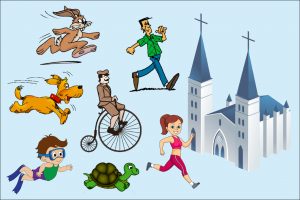 Even though we aren't able to make our annual Patronal Pilgrimage this year, you are invited to take part in our virtual pilgrimage and raise money for St Mary's at the same time.
How will it work?
You are challenged to undertake a walk, jog, run, cycle or swim (or any other means of self-propulsion you can think of) over the weekend of 3-4 October 2020.
Record the distance you travel and it will be added to our collective total of miles, leading us to a place of pilgrimage somewhere in the British Isles. For example, if we collectively travel 98 miles, we'll get to Canterbury Cathedral. However, if we manage to travel 388 miles, we'll make it to St Mary's Cathedral in Glasgow.
By seeking sponsorship for your participation, you will be raising much needed funds for St Mary's, helping us meet the shortfall in income caused by the COVID-19 pandemic.
What do I have to do?
Plan your activity of choice for the weekend of 3-4 October. You can do it in one go or in stages, it's up to you.
Invite your family and friends to sponsor and/or sponsor yourself. We've set up a Justgiving page for everyone (although you can also set up your own).
Download the free Strava app to your mobile phone to record the total distance you travel (contact the Church Office for our account details so that everyone's mileage can be combined)
If you don't use Strava, email the Church Office with your total distance
Join the WhatsApp group to post photographs and news of your achievement (Deborah's coordinating this so please give her your mobile number so she can include you)
The total number of miles covered and the amount you have all raised will be revealed at the Annual Church Meetings on Sunday 11 October.
Please take care with whatever you decide to do and adhere to Government COVID-19 guidelines which may apply to your activity of choice.
Have fun!